What's next for technology in 2020?
Written by Peter Walker
23/12/19
As another busy year in the tech sector draws to a close, it's time to look ahead an predict what the next 12 months may have in store.

Once again, we've gathered together a range of experts from across different industries to peer into their crystal balls and tell us what they think is set to come in 2020.

5G roll-out

One of the most obvious changes that is definitely scheduled next year is the roll-out of 5G networks across the UK.

The impact of far faster broadband speeds, particularly for mobile devices, is likely to be widespread, with companies from retail to logistics, utilities to marketing, all looking to upgrade.

Juniper Research identified 2020 as the year in which 5G connectivity starts to replace costly implementation of fibre networks in remote areas. "We anticipate that the high bandwidth and throughput of 5G networks will provide a highly appealing and cost-effective alternative to the rollout of fibre," the analysts stated.

Himagiri Mukkamala, senior vice president and general manager for IoT cloud services at Arm, suggested that 5G will start of the slow death of Wi-Fi in public spaces and at home, as 5G connectivity and 5G-ready devices become commonplace worldwide.

"With 5G coming, the volume of data collected will become so huge that data needs to be processed at many points in the data chain," he stated. "Edge processing of data across multiple hops in the network becomes critical – this will be done not only because of volume reasons, but also because data-based decisions and having faster decision making at the right action point in the IoT data network will lead to better outcomes."

Internet of Things security

One of the main beneficiaries of increased connectivity and communication speed will be the Internet of Things (IoT). Mukkamala continued that given the increased volume of IoT devices and more government regulations coming in, data privacy and security become paramount in driving IoT solutions. "Security will be a key decision factor for organisations in deploying IoT infrastructure."

His Arm colleague and vice president of strategy Charlene Marini urged IoT device makers and deployers of connected devices to put plans in place to upgrade the capabilities they offer to ensure security.

"For device makers, this means a transition from designing and manufacturing a device to create a trusted connectable and manageable device - embedding lifecycle management capabilities at design time, writing software with security and privacy principles at the forefront and providing accessible updates to deployers of their devices - while for deployers, this means bringing IoT devices into the security realm, working with specialists to have visibility and manageability of devices and networks at scale."

ThetaRay chief executive Mark Gazit, said that in the coming months, we might see the first sign of IoT-based financial crime, due to advancements like Google's plan to offer checking accounts, Apple Pay, and possibly Facebook's Libra.

"These technologies will provide opportunities for a new type of cybercriminal who utilises next generation payment providers to hack into accounts and not only access customer data, but steal money as well."

New threats

Sticking with cyber security, the future holds all manner of new threats.

Jon Clay, director of global threat communications for Trend Micro, explained that as we enter a new decade, organisations of all industries and sizes will increasingly rely on third party software, open-source, and modern working practices to drive the digital innovation and growth they crave.

"Our threat experts predict that this fast growth and change will bring new risks of supply chain attacks – from the cloud layer all the way down to the home network, IT security leaders will need to reassess their cyber risk and protection strategy in 2020."

The increasing use of third-party code by organisations employing a DevOps culture will increase business risk in 2020 and beyond. Managed service providers will be targeted in 2020 as an avenue for compromising multiple organisations via a single target.

"The new year will also see a relatively new kind of supply chain risk, as remote workers introduce threats to the corporate network via weak Wi-Fi security – additionally, vulnerabilities in connected home devices can serve as a point of entry into the corporate network," said Clay.

He also suggested that deepfakes will be the next frontier of fraud, as artificial intelligence is increasingly used to create highly believable counterfeits of individuals saying or doing things that did not occur. "These raise a huge concern for business as it will undoubtedly translate from creating fake celebrity pornographic videos to manipulating company employees and procedures."

Aaron Zander, head of IT at HackerOne, pointed out that government, healthcare and finance are still very attractive targets for cyber criminals.

"Personally, I'm keeping my eye on DNA databases; we have no idea what the value of DNA data will be, but I know that in our lifetime it will probably become one of our most valuable identifiers, and right now we pay other people to tell us trivial things about our history and give it away for free with no real protections."

A Kaspersky report predicted that more cyber criminal groups will target online payment processing systems in 2020.

"Over the past couple of years, so-called JS-skimming (the method of stealing of payment card data from online stores) has gained immense popularity among attackers," it read. "Currently, Kaspersky researchers are aware of at least 10 different actors involved in these type of attacks and experts believe that their number will continue to grow during the next year."

Yuriy Namestnikov, a security researcher at Kaspersky, pointed out that behavioral and biometrics data is for sale on the underground market. "With 2020 on the horizon, we recommend security teams in potentially affected areas of the finance industry to gear up for new challenges – there is nothing inevitable in potential upcoming threats, it is just important to be properly prepared for them."

AI to the rescue

With that in mind, technology is also being put to use to protect companies and their data.

ThetaRay chief executive Mark Gazit, said that regulatory enforcement is likely to continue to ramp up in reaction to a perceived lack of operational resilience.

"We've seen firings, arrests, and even the suicide of Danske Bank Estonia's former CEO – this trend will continue in 2020, with governments finding executives liable for human trafficking, terror funding and other crimes whose proceeds are laundered through the financial system.

"To protect themselves, they will likely invest in new AI-based solutions," commented Gazit. "Regulators will become more open to banks using advanced AI systems to identify unknown and unexpected threats – however, explainability and transparency of AI systems will be crucial."

Steve Wood, chief product officer at Boomi, a Dell Technologies Business, agreed that global data regulations, combined with data silos, will have organisations scrambling to rethink their data management strategies in 2020.

"As companies put dollars and resources behind edge computing and IoT next year as well, updating their data strategy is critical so they don't risk losing out on the benefits next-gen technologies or fall behind competitors."

Wood continued that overzealous data analyses have brought privacy lawsuits from consumers and governments alike, which in turn has led to even stricter data governance laws – suggesting that concerned about making similar mistakes, businesses will begin turning to metadata for insights in 2020, rather than analysing actual data.

"By harvesting data's attributes - including its movement, volume, naming conventions and other properties - companies will give indications of concerns around accessing sensitive information.

"Metadata lends itself well to data privacy, and with the correct machine learning and AI modelling, can still provide critical information to the c-suite such as lead generation changes, third-party data access, potential breaches and more," he added.

Wilson Raj, global director of customer intelligence at SAS, cited a Deloitte survey which found that despite marketing analytics budgets increasing over the next three years, perceived contributions from analytics remain weak.

"In 2020, companies must turn to AI-driven automation to help operationalise those analytics if they are to remain competitive," he commented. "With the deluge of data and proliferation of customer contact opportunities, it is no longer humanly possible to make the thousands of decisions required per second to deliver great customer experience without automation in the mix."

Rise of the robots

Robotic Process Automation (RPA) has been one of the most widespread AI implementations, but Steve Haighway, chief operating officer for Europe at IPsoft, said that this is a demonstration of an RPA bubble.

"In 2020, I expect this bubble will burst. RPA, while good at automating processes, is limited and will never drive genuine business transformation," he argued. "This is reminiscent of the dot-com boom, where the firms that listed on the stock exchange did little more than consume vast amounts of investor cash despite showing little prospect of achieving profit.

"The true opportunities for driving return on AI investment will be achieved where systems are able to understand context, intent and natural language, and use this knowledge to interact with users as well as execute on their requests – anything short of this will eventually have to be ripped out and replaced, as its reliance on keyword-driven instructions and limited, static decision trees becomes a roadblock to business transformation."

Haighway said that next year will instead see a large uptake in 'hyperautomation' – a blend of RPA, intelligent business management software and AI used to automate processes in a way that is significantly more impactful than standalone automation technologies.

"The most successful enterprise implementations of hyperautomation will be where solutions are built to mirror human intelligence: combining digital emotional intelligence with natural language understanding will be key to making automation a natural part of our working lives."

Marieke Saeij, chief executive at Onguard, predicted that the evolution to automation will lead to a higher importance for personal interaction, driven by customer demand. "2020 will be the year that businesses gain the confidence to take the leap and adopt AI, ML and RPA and as a result, we will see these technologies become a lot more pervasive.

"There is currently uncertainty around new technologies due to the threat of job losses, but these fears are misguided as new roles will materialise to work alongside the tech in order to make more intelligent, informed decisions," she continued, adding that with more data available, the analysis of big data will offer greater ability to monitor the risk of investment capital, allowing businesses to take more calculated risks thus increase the number of clients they are able to take on.

"However, it's likely we could see a skills shortage in 2020, as demand from employers increases while the availability of workers with these abilities stagnates."

Gary E. Barnett, chief executive at Semafone, added that the rise of RPA will partly due to the shortage of human cyber security professionals and the need for automation to fill the gaps. "Growth in RPA technology adoption will continue to be steady – as the technology provides huge cost savings for organisations and amass reduction in repetitive administrative tasks for staff."

Digital transformation rumbles on

High on the agenda for seemingly most of the last decade, digital transformation strategies will continue to evolve in 2020, with moves to different cloud-based data platforms increasingly popular.

Ed Macosky, senior vice president of product and solutions at Boomi, suggested that such strategies for the cloud will pull an about-face to hybrid IT environment.

"Companies that rushed to move all their business processes to the cloud are now finding it more expensive or cumbersome than anticipated," he stated. "Over the next year, we're going to see many businesses return to the hybrid model – despite cloud computing's recent leaps and bounds, it still can't do everything on-prem can, creating breakpoints across environments."

Andrew C. Oliver, product director at Couchbase, reckoned that 2020 will mark a tipping point in cloud, as new applications and software will become 'cloud first'.

"In a lot of developers' minds, cloud has been the default for some time, but 2020 will be the first year that adoption statistics match this.

"As cloud hits its tipping point, we will also see greater standardisation of underlying operations – we have already seen microservices and container management systems standardise, with the likes of Kubernetes and Docker rapidly becoming the go-to default," said Oliver. "In 2020, it will be the turn of service mesh offerings; as more and more organisations use service meshes in conjunction with their microservices, they will become as common as Kubernetes."
Related Articles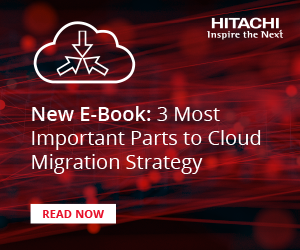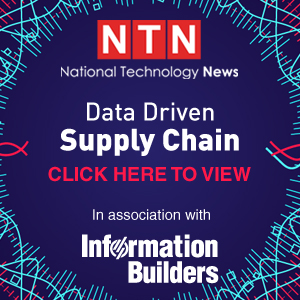 Most read stories...
World Markets
(15 minute+ time delay)