Tech-based spinouts raise over a billion
Written by Mark Evans
04/12/2017
A report funding university spinouts has highlighted 2017 as a record year for investment, with more than £1 billion raised so far.

The report, from law firm Penningtons Manches analyses equity investment and public grants awarded to academic spinouts between 1 January 2011 – 1 November 2017, with a focus on the investment trends of 2016. The report finds that companies spinning out of universities located in the 'Golden Triangle' of Oxford, Cambridge and London are the most successful in raising capital: spinouts from Oxford University received the most equity investment in 2016, followed by Cambridge University and Imperial College London. Cambridge however is catching up, with the data indicating it will overtake Oxford by the end of this year.

A further key finding shows that the majority of capital is being raised at the seed and venture stages of a spinout's lifespan, and that seed-stage spinouts are worth 47 per cent more than the average non-spinout. Growth capital however is harder to achieve: only 42 per cent of spinouts received investment at this stage compared to 55 per cent of non-spinouts. While this is a positive sign for the many innovative spinouts in the UK that are just starting out, it raises questions about the availability of funding as those companies develop.

Life Sciences companies achieved the most deals in 2016, with the sub sectors of research tools/reagents, pharmaceuticals and clinical diagnostics all appearing in the top five when ranked by number of deals completed. Other sectors that performed well include software and software-as-a-service.

Foreign investment contributed to 37 per cent of investment by value in 2016 but only 15 per cent of deals. US-headquartered funds were the most significant source of capital outside the UK, being involved in deals worth 33 percent of the total invested in spinouts in 2016.
Related Articles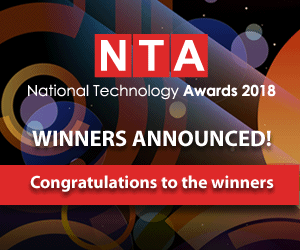 National Technology Awards
Most read stories...
World Markets
(15 minute+ time delay)