Vodafone reports growth slowdown
Written by NTN staff
25/07/18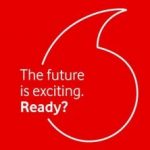 Vodafone's first-quarter revenue fell 4.9% due to currency headwinds and the adoption of new accounting standards. Mobile data grew strong, as did IoT services.

Vodafone said strong performance in Germany and a recovery in the U.K., coupled with continued growth in its Africa, Middle East and Asia Pacific region helped to offset increased competition in Italy and Spain.

Revenue for the quarter ended June 30 was 10.91 billion euros compared with EUR11.47 billion in the year-earlier period.

Services to businesses comprise 30% of Group service revenue, with business customers expanding from traditional mobile voice and data services to embrace total communications, IoT, Cloud & Hosting and IP-VPN provision.

In Q1, our Enterprise business grew service revenues by 0.9%* (Q4: 1.5%*), or by 2.0%* (Q4: 2.1%*) excluding the impact of regulation. Growth in IoT continued (Q1: 12.6%*), primarily driven by the increase in connections (+32% year-on year).

Data traffic grew 57% during Q1 (Europe: 56%, AMAP: 58%). Additionally, Indian data traffic quadrupled following a steep decline in data prices. This largely reflected increased smartphone usage as data allowances expand, with customers now using 3.3GB on average each month (Europe 2.8GB, AMAP 2.3GB, India 4.6GB).

Outgoing CEO Vittorio Colao, who leaves in October, described Vodafone's commercial performance in Q1 as solid and in line with expectations.
Related Articles
National Technology Awards
Most read stories...
World Markets
(15 minute+ time delay)