Orbex looking to disrupt satellite launch market
Written by NTN staff
16/07/18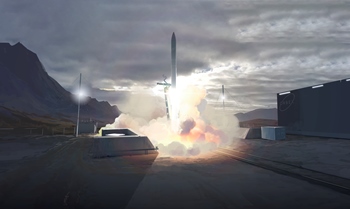 The new entrant has just emerged from stealth mode to launch renewable fuel-based small satellites from the newly-announced UK spaceport in Sutherland in the Scottish Highlands.

Orbex has announced that it has secured £30 million in public and private funding for the development of orbital space launch systems. The British company will launch orbital vehicles from the newly-announced UK Vertical Launch spaceport in Sutherland in the Scottish Highlands as part of the main consortium.

It is claimed the satellite launchers are 30% lighter than any other launch vehicle in its class and will deliver small satellites into orbit using a single renewable fuel, bio-propane that cuts carbon emissions by 90% compared to traditional hydrocarbon fuels.

Orbex said it is constructing a completely re-thought and re-designed orbital launch vehicle, called Prime, to deliver small satellites into Earth's orbit. According to the spacelaunch company, Prime launcher has a novel architecture that eliminates the fundamental mass challenge of small launchers. The Prime vehicle will launch satellites to altitudes up to 1,250km, inserting them into sun-synchronous or polar orbits.

Similar to SpaceX, the rocket uses a new low mass recovery and reflight system, as well as a novel "zero-shock staging system" called Magic, which apparently leaves zero orbital debris.

"It was clear to us from the start that Orbex had the potential to disrupt and fundamentally improve the satellite launch market in Europe and beyond," said Yann Fiebig, Senior Investment Manager at the High-Tech Gründerfonds.

Orbex has subsidiaries and production facilities in Denmark and Germany. The company has received funding from the UK Space Agency (UKSA), two of Europe's largest venture capital funds, Sunstone Technology Ventures and the High-Tech Gründerfonds, as well as private investors, the European Space Agency (ESA) and the European Commission Horizon 2020 programme.
Related Articles
National Technology Awards
Most read stories...
World Markets
(15 minute+ time delay)