First AI-centric data centre switch
Written by NTN staff
10/01/19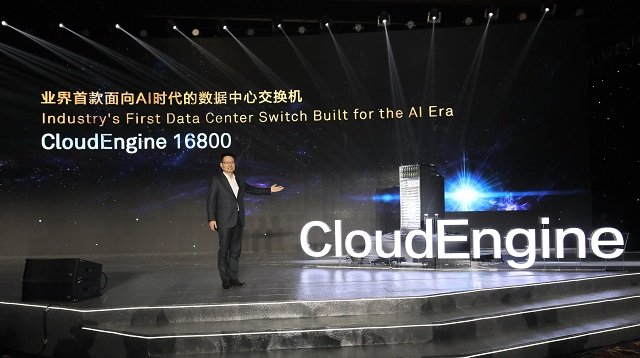 Huawei has unveiled what it claims is the industry's first data centre switch built for the Artificial Intelligence era, the CloudEngine 16800.

It is expected that the pervasive use of AI will help customers accelerate digital and intelligent transformation, shaping new technologies and business models. Huawei is among those that wants to tap into this potential and says it is the first out of the block with a new product due in Spring 2019, the CloudEngine 16800.

According to the vendor, the AI computing power is affected by the performance of data center networks, which is becoming a key bottleneck of the AI commercial process. On a traditional Ethernet, the AI computing power of data centers can only reach up to 50 percent due to a packet loss rate of 1‰. Existing 100GE data center networks will be unable to handle the predicted data flood. In addition, traditional manual O&M methods will be unable to meet requirements as the number of data center servers continues to increase and the computing network, storage network, and data network become converged. This is where Huawei's new solution comes in, "reaching an AI computing power of 100%".

The CloudEngine 16800 boasts an upgraded hardware switching platform, meeting the traffic multiplication requirements in the AI era, according to the company. The first data centre switch in the industry to leverage the power of an embedded high-performance AI chip, it uses new iLossless algorithm to implement auto-sensing and auto-optimization of the traffic model, thereby realizing lower latency and higher throughput based on zero packet loss.

The CloudEngine 16800 overcomes the computing power limitations caused by packet loss on the traditional Ethernet, increasing the AI computing power from 50 percent to 100 percent and improving the data storage Input/Output Operations Per Second (IOPS) by 30 percent.

Huawei defines three characteristics of data centre switches in the AI era: embedded AI chip, 48-port 400GE line card per slot, and the capability to evolve to the autonomous driving network, and innovatively incorporates AI technologies into data centre switches.

Kevin Hu, President of Huawei Network Product Line, said, "A fully connected, intelligent world is fast approaching. Data centers become the core of the new infrastructures such as 5G and AI. Huawei will first introduce AI technology to data center switches, leading data center networks from the cloud era to the AI era."

According to Huawei's Global Industry Vision (GIV) 2025, the AI adoption rate will increase from 16% in 2015 to 86% in 2025.
Related Articles
National Technology Awards
Most read stories...
World Markets
(15 minute+ time delay)