Drones on the Great Wall
Written by NTN staff
01/05/18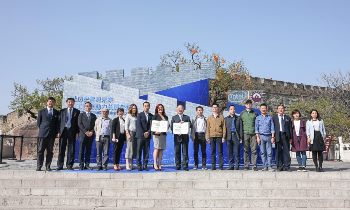 Intel is using drones together with artificial intelligence technology to help restore China's Great Wall. The technology will also be used for automating future projects.

Under a new partnership, Intel is helping the China Foundation for Cultural Heritage Conservation protect and restore the Great Wall of China.

The Great Wall's Jiankou section is among its most famous stretches, as well as its steepest. Located in thick vegetation, the section of the wall, which dates to the third century B.C., has naturally weathered and requires repair. Intel's AI and Falcon 8+ drone technologies will be used to remotely inspect and map the Jiankou section, which has been difficult for repair teams to reach.

Over the next few months, Intel's Falcon 8+ drones will capture aerial photography of the walls to obtain high-definition 3-D images, helping teams gauge the Great Wall's current condition. Intel Artificial Intelligence data capture will create a visual representation of the Great Wall to help efficiently and safely identify sections in need of repair.

"As one of the Seven Wonders of the World, the Great Wall has been exposed to weather erosion for thousands of years," says Li Xiaojie, China Foundation for Cultural Heritage Conservation chairman. "Some parts are on steep inclines, which pose a great challenge for daily maintenance. Our partnership with Intel has opened new avenues for preservation."

Intel said drones will play a big part of its efforts to help with future inspections, especially automation from drone data capture to data analysis and insights.

"Using drones, we are able to inspect multiple aspects of the structure including areas that are quite inaccessible. We continue to be excited about the future of inspections being automated all the way from drone data capture to data processing, analysis and insights. We look forward to leveraging our technology to aid in the preservation of more world heritage sites in the future." –Anil Nanduri, vice president and general manager of Intel's drone team (a signing ceremony took place in mid-April, pictured).
Related Articles
National Technology Awards
Most read stories...
World Markets
(15 minute+ time delay)