Danish Robot company acquires Purple Robotics
Written by NTN staff
31/08/18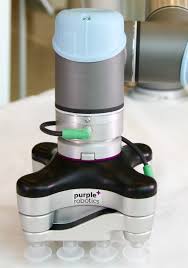 OnRobot has bought a company that has developed an innovative vacuum gripper described as the first gripper specifically for collaborating robots. It marks further M&S in the market for industrial robot accessories.

With the acquisition of Purple Robotics, OnRobot can now offer its partners the world's first dual vacuum gripper, the company said. The gripper attracted international robot industry attention when the inventors presented it in June at Automatica, the world's largest robotics fair.

The acquisition takes place two months after the OnRobot merger of three robotics companies from the United States, Hungary and Denmark that created one global player with a focus on the market for industrial robot accessories. OnRobot sells hardware as well as software used for solutions involving collaborating robots ('cobots').

Purple Robotics was established by the three Danish "super-nerds" Lasse Kieffer, Henrik Tillitz Hansen and Peter Nadolny Madsen, all of whom have a background as product developers at Universal Robots. OnRobot is now infusing this expertise into its own existing R&D department at its headquarters in Odense.

Purple Robotics has sold its product to 40 partners in 25 countries since launching its product earlier this year.

Its dual vacuum gripper cangive a robot arm two "hands" and thereby the ability to handle several items simultaneously and solving multiple tasks in one movementa, ccording to the cokpamy. Additionally, it has an electric pump integrated in the gripper itself, meaning users do not need to worry about hoses, compressed air, and cables as with conventional vacuum gripper solutions.

Lasse Kieffer, Purple Robotics CEO, will join the OnRobot organisation together with his colleagues post-merger.

"The vacuum gripper meets a clear need in the global industry for efficient and flexible robot solutions that are simple and quick to commission," said Enrico Krog Iversen, CEO, OnRobot.

"We are now one step closer to our vision of offering 'one-stop-shopping' for buyers of robot accessories," Enrico Krog Iversen added.
Related Articles
National Technology Awards
Most read stories...
World Markets
(15 minute+ time delay)