Vodafone to launch first human-like digital assistant
Written by Hannah McGrath
27/09/2018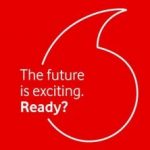 Vodafone is set to be the first telecoms company to launch human-like digital assistants to help its customers in stores.

The screen-based chatbots, powered by artificial intelligence (AI) technology by FaceMe and known as Intelligent Digital Humans (IDHs), will be human-like in appearance and their interactions with customers.

Due to be unveiled in the coming months, the IDHs will offer Vodafone's telecoms and mobile customers personalised advice in store, freeing up time for staff members to address more complex customer needs.

Vodafone is planning to rollout the first generation of intelligent digital humans in selected stores in Auckland, New Zealand later this year.

They will be the first AI-Powered digital humans to operate in a retail store in the country.

Helen Van Orton, director of customer operations at Vodafone said the Digital Humans will contribute to the meaningful conversations customers are looking for when they come into a store.

She explained: "FaceMe has evolved AI technology to create intelligent digital humans that are human-like in their appearance and interaction. Thanks to machine learning, they are capable of continuously learning how to anticipate our customers' needs and better serve them."

Van Orton said the digital assistants are not intended as replacements for frontline staff, and insisted they would automate more repetitive workplace tasks freeing staff up for more creative activities.

"Great AI should be designed to enhance what humans do. We're leveraging technology as a tool to support and empower our staff, by removing repetitive tasks through automation while still maintaining the element of human interaction and to solve customer pain points with digital innovation," she said.

Danny Tomsett, chief executive of FaceMe, said that emotional connection is key when it comes to customer adoption of emerging technologies.

"Digital humans combine the best customer experience influencers from both person and machine, embodying the brand of an organisation and creating significant value through emotional connection, personalisation and consistency," he added.

Vodafone's announcement comes after the World Economic Forum released a report which challenged growing fears that robots and machine-learning could lead to wide scale unemployment.

Instead, the report found that robots are likely to create double the number of jobs that are displaced by technological disruption.
Related Articles
National Technology Awards
Most read stories...
World Markets
(15 minute+ time delay)